Physical Fitness
Strength~Stamina~ Ability~Agility
Build a life to forge your future. This includes your body. It's the only one you have. Build on the foundation you've already developed. Train your body to accomplish physical goals you never thought were possible. Work to maintain your physical strength and stamina. Train your body to work in concert with your mind.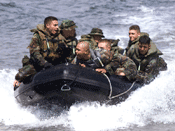 You'll have access to Navy facilities with State of the Art Physical Training Equipment!

You'll also have access to ALL military facilities and their physical training facilities, as well as ALL of their Morale, Welfare and Recreation Facilities. This includes camping, water sports, mountain climbing, skiing, and many more.
Cool Links
Initial Training (Recruit, Officer Candidate, Officer Indoctrination):
Initial Physical Fitness Testing
Structured, graduated physical fitness program
Learn to work together, assisting each other to achieve personal goals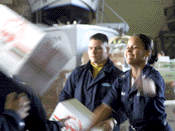 In the Navy Command:
You will never be just a spectator in the Navy!
Organized athletics
Physical fitness tests
Sports Program with opportunities to compete
Individual physical training opportunities
Command sponsored physical training (weekly)
Unit/Intramural sports
Inter-Base and Inter-Service sports competition