Navy
Past, Present, and Future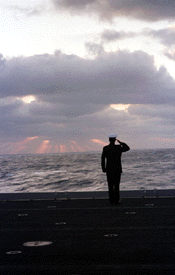 "The Navy has both a tradition 
and a future... 
and we look with pride and confidence
in both directions"
		--Admiral George Anderson
	      CNO August 1, 1961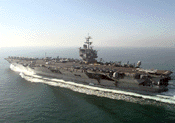 Naval History
Navies are born out of a spirit of independence and under the threat of war, nurtured into maturity by the urgent demands of defense and sharpened by conflict. So it was with the first American Navy.
The Second Continental Congress met on May 5, 1775, while the colonists were continuing their battle with the Brittish. Before long, it became clear to Congress that if the colonies were to survive they would need a navy. On Oct. 13, 1775, the Second Continental Congress authorized the purchase of two vessels, thus establishing the first United States Navy.
The American colonies were heavily dependent on the sea for their livelihood. Harbors and shipbuilding docks provided livelihood and income to many people. When the conflict between the colonies and England began, the British struck first at the ports. From these ports, the colonies deployed small ships from a hastily organized naval force to harass the mightiest sea power in the world. The principal objective of the colonial fleet was to capture enemy supply and munitions vessels.
Fighting alongside the colonists were groups of independent fleets called privateers. These fleets were commissioned by the Continental Congress and by individual states to capture enemy merchant ships as prizes of war. A typical vessel used by the privateers was the schooner, a small, fast, flexible, flush-deck ship that carried smooth bore cannons. The schooners broke the British stranglehold on New England harbors, by slipping past the Royal Navy's men-of-war and hiding in inlets. Unable to meet the British head-on, the American ships outmaneuvered them, striking the enemy ships in strategic places.
With the end of the Revolutionary War, followed by the establishment of a new federal government, the infant U.S.Navy went into decline. By war's end, in 1783, the Navy was down to five ships. These ships were disbanded shortly thereafter, with the frigate Alliance, the last of them, being sold in 1785.
However, it wasn't long before the need for a new Navy was realized. America's small merchant fleet was being molested on the high seas. In 1794, a Navy-conscious Congress authorized the construction of six frigates. They possessed a combination of firepower and speed. One of these was the USS Constitution, completed in 1798. Rated a 44-gun, it was capable of sailing at 13.5 knots. The Constitution, nicknamed "Old Ironsides", is still in commission and can be seen at the Boston Navy Yard.
Cool Links
Who we are today...
From its humble beginnings, the Navy has grown to what we are today - a mighty fleet of destroyers, cruisers, frigates, nuclear-powered submarines and aircraft carriers. The Navy protects and defends the rights of the United States and our allies to move freely on the oceans and protects our country against enemies.