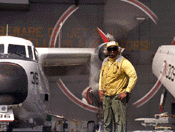 Navy Core Values
The U.S. Navy is an elite force of highly trained professionals dedicated to protecting our freedom and ensuring a secure future for America. For more than 200 years, Navy men and women have stood tall for the principles that make America the greatest nation on earth. These unchanging principles, Honor, Courage and Commitment, are known as Core Values. To know, understand and faithfully live by them is the duty of all Navy people.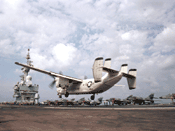 Honor
Honor means being accountable for one's professional and personal behavior. All Sailors must:
conduct themselves in the highest ethical manner in all relationships with seniors, peers, and subordinates;
be honest and truthful in their dealings with each other, and with those outside the Navy;
be willing to make honest recommendations and to accept those recommendations from junior personnel;
encourage new ideas and deliver the bad news, even when it is unpopular;
abide by an uncompromising code of integrity, taking responsibility for their actions and keeping their word;
fulfill or exceed their legal and ethical responsibilities in public and personal lives 24 hours a day.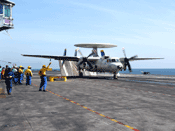 Courage
Courage is the value that gives morale and mental strength to do what's right, with confidence and resolution, even in the face of temptation or adversity. As such, Sailors must:
have the courage to meet the demands of the profession;
make decisions and act in the best interests of the Navy and the nation, without regard to personal consequences;
overcome all challenges while adhering to the highest standards of personal conduct and decency;
be loyal to the nation by ensuring that resources entrusted are used in an hones, careful, and efficient way.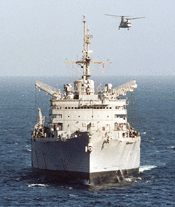 Commitment
The day-to-day duty of every man and woman in the Navy is to join together as a team to improve the quality of work and each other. As such, Sailors must:
foster respect up and down the chain of command;
care for the personal and spiritual well-being of others;
show respect toward all people without regard to race, religion, or gender
always strive for positive change and personal improvement.
exhibit the highest degree of moral character, professional excellence, quality and competence.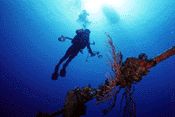 Introduction to the Navy
The words "welcome aboard" will carry a world of significance once you've made one of the biggest decisions a young person can make - volunteering to enlist in the United States Navy. By doing so, you'll become a member of one of the most famous military services in the world, and have joined one of the biggest businesses in the United States. Not only will you prove your understanding of citizenship by offering your services to your country, but you'll have taken the first step toward an exciting and well-paying career.
Today's Navy is a massive and complex organization. The Navy also plays a vital role in maintaining our national security; it protects us against our enemies in time of war, and supports our foreign policy in peacetime. Through its exercise of sea power, it ensures freedom of the seas, so that merchant ships can bring us the vital raw materials we import from overseas - like petroleum, coffee, rubber, sugar, and aluminum. Sea power makes it possible for us to use the oceans when and where our national interests require it, and denies our enemies that same freedom.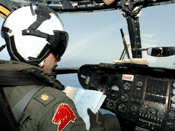 First Enlistment
Your entry into the Navy starts at your home-town recruiting station, with interviews and processing by a trained petty officer. The actual swearing in takes place at a military examination processing station (MEPS). An enlistment (often called a hitch or cruise) is for four to six years.
All recruits begin their Naval careers at the Naval Training Center (NTC) in Great Lakes, Illinois.
Naval Training Center, Great Lakes consists of three commands: Administrative Command (AdCom), Service School Command (SSC), and Recruit Training Command (RTC).
AdCom maintains buildings and grounds at the NTC, and provides housing, clothing, pay, and medical and dental care. AdCom also handles recreational and Navy Exchange facilities, communications, postal and transportation service, and police and fire protection.
The SSC consists of the schools that provide technical training for various ratings. These schools train Sailors from the fleet and recruits who've finished bootcamp.
The RTC is where you go first to prepare for life in the Navy.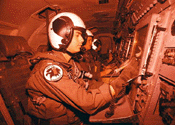 What a Life!
Navy life is probably not what you think it is… it's better! You'll have the opportunity to travel to exotic places all over the world. You'll have career opportunities that could lead you to assignments on a Naval submarine, surface ship or military aircraft. You'll make friendships that will last a lifetime.
And maybe you're not thinking about things like great pay, terrific health benefits, and educational opportunities right now, but you don't have to, because the Navy's got them covered.
Once assigned to active duty, you could be stationed at sea, or at one of the Naval bases around the country or the world. Sound like a cool life? It is, but anything worthwhile takes hard work, commitment and dedication, and the Navy puts you to the test. Do well and expect good things to follow, both while in the Navy and when you leave it!
The Navy is a splendid opportunity for many people. We think you may want to consider such a career move carefully if you want:
Up to $50,000 for college
Worldwide travel opportunities
State-of-the-art technical training
Excellent pay with regular raises
Regular promotions
Challenges that prepare you for tomorrow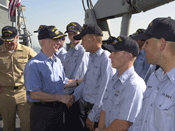 Opportunities for Women in the Navy (as of December 31, 1999)
There are 51,947 women in the Navy, accounting for 13.7% of the total active-duty force.
Enlisted women are assigned to all but three ratings, all submarine associated: MT, FT, and STS
Women officers are assigned to all designators except submarine warfare and special warfare.
About 91% of all Navy Billets are open to women. Billets closed to women are those on submarines and PC's due to prohibitive habitability modification costs; and those associated with SEALS and Marine support that falls under the direct ground combat exclusion or collocation exclusion.
The Navy has more than 12,000 women currently assigned to ships, afloat staffs, airwings, and other shipboard aviation units.
Women are assigned to combatants and non-combatants.
Female aviators: more than 540 female officers are in aviation, 246 pilots, 108 NFOs, 102 training as pilots, 72 training as NFOs. Additionally, 14.2% of Navy enlisted women serve in aviation ratings.