Join the Navy
Nearly 400,000 active duty men and women proudly serve in today's ethnically diverse Navy, three quarters of whom are enlisted Sailors and midshipmen. The opportunities for advancement are equal for all, and with the exception of SEALs and submarines, all assignments are open to women. When you join, you will make a difference! You will help us fulfill our mission, and you will be serving your country.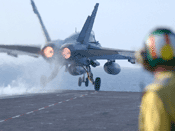 Qualification Standards
In order to qualify for service in the United States Navy, you must meet strict Mental, Moral, and Medical Requirements. Please contact your local recruiter with specific questions and to schedule an interview to find out if you qualify! The interview will take approximately 1 1/2 hours, depending on how many questions you have. During this interview, the recruiter will ask you questions relating to your Mental, Moral, and Medical history and enable you to take the next steps towards joining the Navy.