Navy Nuclear Power
Navy Nuclear Power
Today's Navy is the most technologically advanced organization in the world, with most of its aircraft carriers and all of its submarines propelled by nuclear power. But nuclear-powered ships don't run themselves. The Navy is continually looking for highly motivated, quality men and women to join the nuclear team as nuclear propulsion plant engineers and operators.
Sailors who operate the engineering plants of nuclear-powered ships are carefully screened, selected, and trained. The standards for selection are high; the rewards and satisfaction are unparalleled.
Nuclear Field Sailors are proud professionals, enjoying the adventure and exceitement that the Navy's unique lifestyle offers.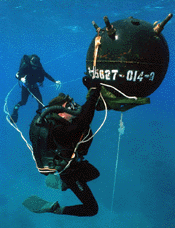 Nuclear Field Program Opportunities
New and exciting job opportunities await the select group of men and women with the knowledge and expertise gained through Navy nuclear engineering training. Some of the technical and professional benefits enjoyed by qualified people in the Navy's nuclear field include:
College-level classes in physics, chemistry, mathematics, electrical engineering and thermodynamics;
College-level engineering training in nuclear power plant design, construction, instrumentation and operation;
Worldwide travel;
Service in an exciting, challenging adn highly technical field, vital to national defense.
Cool Links